You are here: Home > Institute > Academic Staff > dr hab. Katarzyna Kajdanek prof. UWr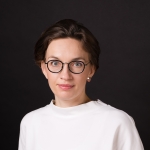 dr hab. Katarzyna Kajdanek prof. UWr
Department of Urban and Rural Sociology
Office hours:
Winter exam session:
Wednesdays 10:30-12:30
Position:
Senator
Erasmus + Coordinator
Intercultural Mediation Coordinator
Research Interests:
urban studies; city and culture, civic engagement, urban renewal.
rural studies, suburban development, multifunctional rural development.
Kajdanek, Katarzyna (2019) "Wrocław begegnet endlich dem Anderen" w: Jahrbuch Polen 2019: Nachbarn, Harrassowitz Verlag, pp. 127-138.
Kajdanek, Katarzyna; Pietraszewski, Igor, Pluta, Jacek (red.) (2017) "City and Power". Peter Lang: Warsaw Studies in Philosophy and Social Sciences.
Kajdanek, Katarzyna (2017) "Identity for sale? Commercialization of urban image of Wroclaw", Architectus 2, s. 15-27; DOI: 10.5277/arc170202
Kajdanek, Katarzyna; Nawrocki Tomasz (2015) "Die Bedeutung der Vor- und Nachkriegsgesichte bei der Bestimmung in der Identitat von Stadten und Ihren Einwohnen" w: Vergangenheit in Gegenwart und Zukunft. Modelle zur Gesichtsbewaltingung in Mittel- und Osteuropa seit 1989, s. 14-22
Kajdanek, Katarzyna (2014) "Newcomers vs. Old-Timers? Community, Cooperation and Conflict in the Post-Socialist Suburbs of Wrocław, Poland" w: P. Watt, P. Smets (eds.) Mobilities and Neighbourhood Belonging in Cities and Suburbs, Palgrave Macmillan, s. 182-199
Kajdanek, Katarzyna (2014) "Urban-rural cooperation in the context of suburbanization processes in Poland", w: M. Dej, K. Janas, O. Wolski (red.) Towards Urban-Rural Partnerships in Poland. Preconditions and Potential, Geographical Affairs, Kraków: Instytut Rozwoju Miast, s. 57-69
2019-2020 Research project: Return from suburbs to cities MINIATURA3 2019/03/X/HS6/00342, funded by Ministry of Science and Higher Education
2019-2020 Development project: From candidates to alumni PPI/PZA/2019/1/00013/DEC/01, funded by National Agency for Academic Exchange (NAWA)
2018-2021 Research project: Reviving rural areas? OPUS 2017/27/B/HS4/01220, funded by Ministry of Science and Higher Education
2017-2020 scholarship for outstanding young scholars, funded by Ministry of Science and Higher Education
2013-2017 Research project: Urban identity and public space OPUS 2013/09/B/HS6/00418, funded by Ministry of Science and Higher Education
Obrazy:
Aby dołączyć zdjęcia do tekstu wgraj pliki z komputera lub wskaż plik z listy przesłanych wcześniej.
Dla zachowanie większej czytelności katalogu zdjęć twórz katalogi i przesyłaj zdjęcia bezpiśrednio do wskazanego katalogu.
Edycja profilu
Edytuj zakładki: