You are here: Home > Institute > Academic Staff > dr hab. Ewa Banaszak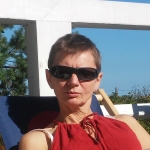 dr hab. Ewa Banaszak
Department of the Sociology of Gender and Family
Office hours:
Tuesday 12.20 - 13.40
Wednesday 16.30 -17.15
Position:
Board Member of the Polish Sociological Association, the Wroclaw Department.
Research Interests:
sociology of culture
sociology of the body
sociology of fashion and clothing
Obrazy:
Aby dołączyć zdjęcia do tekstu wgraj pliki z komputera lub wskaż plik z listy przesłanych wcześniej.
Dla zachowanie większej czytelności katalogu zdjęć twórz katalogi i przesyłaj zdjęcia bezpiśrednio do wskazanego katalogu.