You are here: Home > Institute > Academic Staff > dr Michał Cebula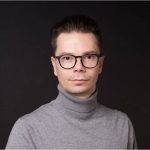 dr Michał Cebula
Department of Consumer Behaviour
Zainteresowania naukowe:
Sociology of consumption
Taste and lifestyles
Economic sociology
Social structure and stratification
Social networks and social capital
List of publications in UWr's database

Cebula, M. 2023. Social class, social networks and variety of weak and strong practices, e13124. DOI: soc4.13124
Cebula, M. 2023. Cultural Resources and Mobilization of Social Capital: The Case of Finding a Job. "Sociological Inquiry", Vol. 93 (1): 59-91. DOI: 10.1111/soin.12500
Cebula, M. 2022. Inequality in Social Capital: Assessing the Importamce of Structural Factors and Cultural Consumption for Social Advantage. A Case from Poland. "International Review of Sociology (Revue Internationale de Sociologie)", Vol. 32 (3): 501-528. DOI: 10.1080/03906701.2022.2135190
Cebula, M. 2020. Traditional vs. Modern Art: The Status and Network Antecedents of Visual Art Preferences. "Polish Sociological Review", Vol. 209 (1): 41-63. DOI: 10.26412/psr209.03
Cebula, M. 2019. Beyond Social Class and Status. The Network Embeddedness of Music Consumption. "Przegląd Socjologiczny", Vol. 68 (2): 81-105; DOI: 10.26485/PS/2019/68.2/4
Cebula, M. 2015. Beyond Economic and Cultural Capital: Network Correlates of Consumption Tastes and Practices. "Polish Sociological Review", Vol. 192 (4): 455-474
Obrazy:
Aby dołączyć zdjęcia do tekstu wgraj pliki z komputera lub wskaż plik z listy przesłanych wcześniej.
Dla zachowanie większej czytelności katalogu zdjęć twórz katalogi i przesyłaj zdjęcia bezpiśrednio do wskazanego katalogu.
Edycja profilu
Edytuj zakładki: