You are here: Home > Institute > Academic Staff > dr Michał Cebula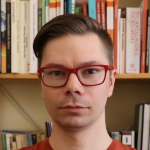 dr Michał Cebula
Department of Consumer Behaviour
Office hours:
Tuesday 13.00 - 14.00
Wednesday 8.40 - 9.40
Research Interests:
Sociology of consumption
Taste and lifestyles
Economic sociology
Social structure and stratification
Social networks and social capital
Cebula, M. 2019. Beyond Social Class and Status. The Network Embeddedness of Music Consumption. "Przegląd Socjologiczny", Vol. 68 (2): 81-105; DOI: https://doi.org/10.26485/PS/2019/68.2/4
Cebula, M. 2015. Beyond Economic and Cultural Capital: Network Correlates of Consumption Tastes and Practices. "Polish Sociological Review", Vol. 192 (4): 455-474
Obrazy:
Aby dołączyć zdjęcia do tekstu wgraj pliki z komputera lub wskaż plik z listy przesłanych wcześniej.
Dla zachowanie większej czytelności katalogu zdjęć twórz katalogi i przesyłaj zdjęcia bezpiśrednio do wskazanego katalogu.