You are here: Home > Institute > Academic Staff > dr Stanisław Krawczyk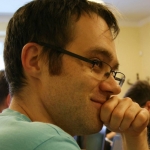 dr Stanisław Krawczyk
Department of the Sociology of Science, Knowledge, and Culture
Office hours:
In the spring term, 2022/23:
Tuesday, 13:00-14:00 (MS Teams)
Thursday, 17:00-18:00 (room 344; you can also reach me via MS Teams)
The Dean of the Faculty of Social Sciences has cancelled the classes on May 18 in the afternoon, so there will be no office hours on that day.
Research Interests:
sociology of culture
sociology of literature
higher education studies
game studies
science fiction studies
Kulas, P., Waśkiewicz, A., & Krawczyk, S. (Eds.). (2022). Understanding Recognition: Conceptual and Empirical Studies. Routledge.
Kulas, P., Waśkiewicz, A., & Krawczyk, S. (2022). Recognition: An Insight into Past and Present Societies. In Understanding Recognition… (pp. 1–16).

Krawczyk, S. (2022). Popular Authors in Search of Recognition: On the Polish Field of Science Fiction in the 1980s and 1990s. In Understanding Recognition… (pp. 199–216). (Preprint.)
Krawczyk, S. (2022). Gust i prestiż. O przemianach polskiego świata fantastyki [Taste and Prestige: On the Transformations of the World of Speculative Fiction in Poland]. Wydawnictwo Naukowe Scholar.
Krawczyk, S., Szadkowski, K., & Kulczycki, E. (2023). Identifying Top Researchers in Highly Metricized Academia: Two Discursive Strategies of Senior Officials in Poland. Discourse: Studies in the Cultural Politics of Education, 44(2), 269–280. https://doi.org/10.1080/01596306.2021.1993792. (2021 preprint.)
Obrazy:
Aby dołączyć zdjęcia do tekstu wgraj pliki z komputera lub wskaż plik z listy przesłanych wcześniej.
Dla zachowanie większej czytelności katalogu zdjęć twórz katalogi i przesyłaj zdjęcia bezpiśrednio do wskazanego katalogu.
Edycja profilu
Edytuj zakładki: